This Creamy Summer Fresh Corn Zucchini Chowder is one of the best late summer corn chowders. It's easy to make and totally delicious! This lightened up chowder is made with fresh corn from the cob, no flour, and half and half.
It's a hearty soup perfect for a light lunch on it's own or for dinner with an additional salad or some crusty bread, either way I promise you will be completely satisfied with this delicious chowder.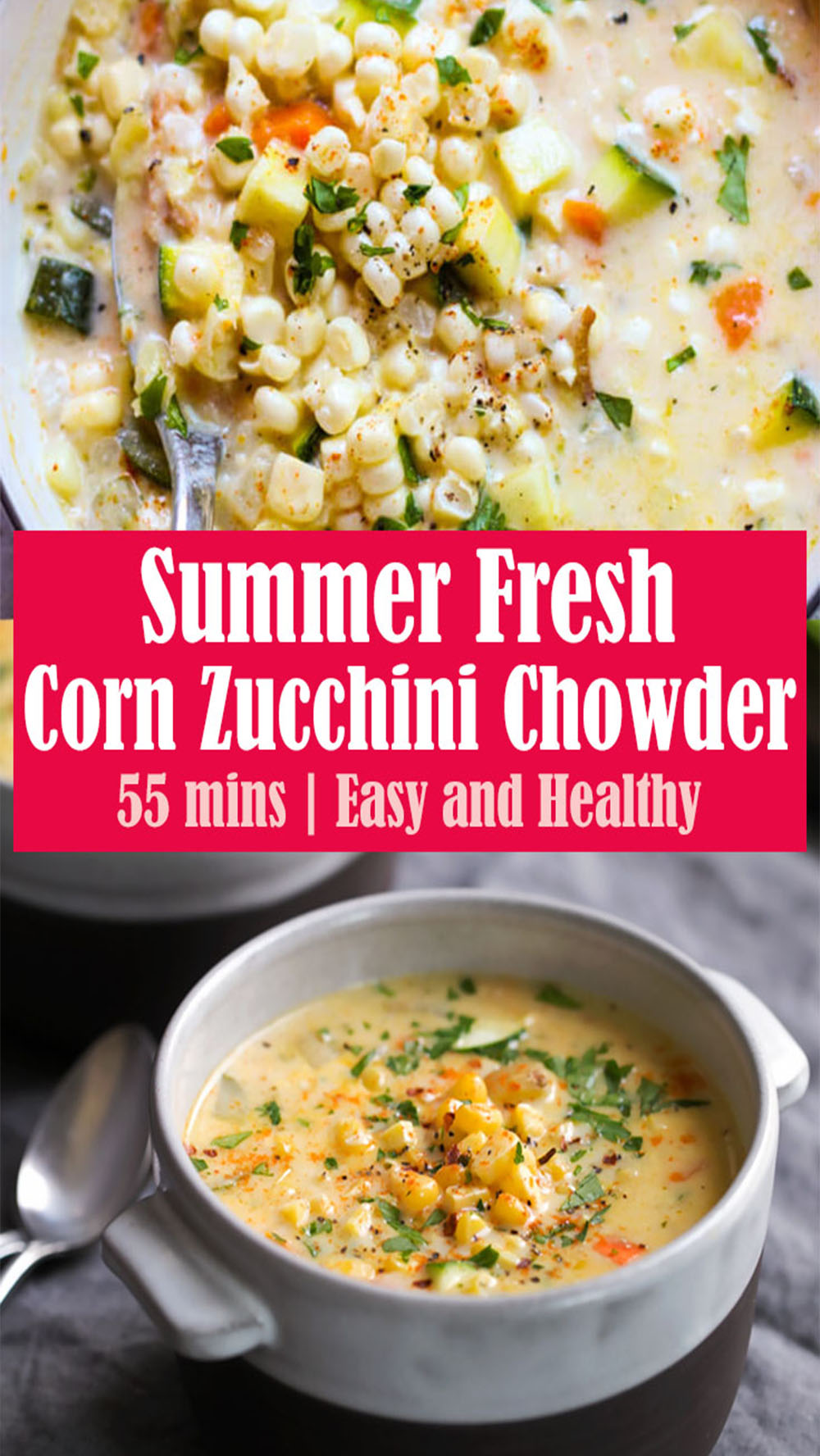 Yield: 6-8
Creamy Summer Fresh Corn Zucchini Chowder
This Creamy Summer Fresh Corn Zucchini Chowder loaded with seasonal corn and zucchini! This lightened up chowder is made with fresh sweet corn from the cob, no flour, and half and half.

Prep Time 15 minutes

Cook Time 40 minutes

Total Time 55 minutes
Ingredients
1 Tbsp. butter
2 strips bacon, chopped
1 cup chopped yellow onion, about 1/2 large onion
2 celery ribs, chopped (1/3 cup)
1 medium carrot, peeled + chopped (1/2 cup)
2 garlic cloves, minced
1/2 tsp. dried thyme
2 medium (1 lb.) russet potatoes, peeled, diced into 1/2-inch cubes
4 cups water (or veggie stock)
1 bay leaf
4 ears of sweet fresh corn, husk + silk removed and kernels cut from cob (2 3/4 cup corn)
1 medium zucchini, diced into 1/2-inch cubes, (1 1/2 cups)
1 cup half and half
salt and fresh ground black pepper
chopped fresh parsley, to garnish
cayenne pepper, to serve, optional
Instructions
1. In a large heavy-duty bottom stockpot or dutch oven, melt butter over medium heat. Add bacon and cook until bacon renders its fat and begins to brown, about 3-4 minutes.
2. Add onion, celery, carrots, garlic, and thyme; cook until vegetables begin to soften, stirring couple times, about 5 minutes.
3. Add potatoes, water, and bay leaf. Raise the heat to medium high and bring to a simmer, then lower the heat back to medium and simmer for 8-10 minutes or until the potatoes are halfway cooked.
4. Add zucchini and corn; season with salt and pepper, to taste, and simmer for additional 8-12 minutes or until the vegetables are completely tender.
5. Discard the bay leaf and then transfer 2 cups of chowder to a food processor or blender; puree until smooth. Stir the mixture back into the pot. Add half and half and cook just until heated through. Taste for salt and pepper.
6. Serve garnished with fresh chopped parsley and sprinkle of cayenne pepper, optional.
Notes
To make it VEGAN: replace butter with 2 Tbsp. of olive oil, replace bacon with 1 1/2 tsp. smoked paprika or even better some type of southwest seasoning blend that has smoked paprika in it. Lastly, replace the half and half with 1 cup full-fat unsweetened coconut milk (make sure to shake the can first). To make these substitutions, you would first heat the olive oil over medium heat, add the veggies (step 2) , plus the smoked paprika. Cook until veggies are soft. Proceed with the rest of the recipe as written. If you need further clarifications, please ask in the comments below and I'll be happy to answer.